Contact
Independent advisors on finance, lifestyle and aging

Retirement Income Planning
September 15th, 2015
NOTE: This newsletter contains three articles that are best read in sequence, starting with this one and followed by Revisiting the Risks of Retirement and Another Dimension of Retirement Risk.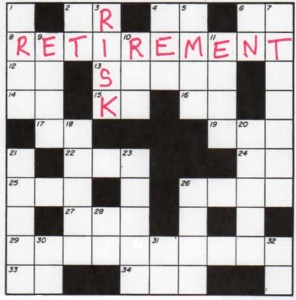 Up until two years ago, my work with clients was focused on developing lifestyle and financial plans for their "retirement". Now, however, I find myself working with them to plan how to convert their retirement savings into a stream of income that supports their lifestyle.
In another sign of the times, I've also noticed a string of articles in the press about what is being called the "decumulation", as opposed to the "accumulation" phase. There is a heavy emphasis on the challenges faced by members retiring from Defined Contribution <DC>pension plans or Group RRSP plans.
In June, the American Society of Actuaries presented a Webinar on the topic "Creating a Better DC Plan". One of the presenters was Steven Vernon, an American actuary who has written a book called "Money for Life – Turn Your IRA and 401(k) into a Lifetime Retirement Paycheck". IRA's and 401(k) are the American equivalent of DC plans and RRSP's.
Steven works at the Center on Longevity at Stanford University, in California. His topic for the webinar was Retirement Income Planning.
Retirement Income Planning is the process that converts retirement savings into retirement income generators. The retirement income generators have 4 requirements. They need to:
produce reliable income streams
that last for the rest of your lives
no matter how long you live
no matter what happens in the economy.
His argument is that this is extremely difficult to do. He quotes two professors.
The first is Richard Thaler who says "For many people, being asked to solve their retirement savings problems is like being asked to build their own cars." It turns out that Richard Thaler is a "Distinguished Service Professor of Behavioral Science and Economics" at the University of Chicago.
The second is his friend Bill Sharpe. "Retirement income planning is hard. It is the hardest problem I have looked at." It turns out that Bill is William F. Sharpe. He teaches at the Graduate School of Business at Stanford University. He won the Nobel Prize for Economic Sciences in 1990.
If you consider these two guys to be the functional equivalent of Dr. Spock, what are mere mortals like you and me going to do? Fortunately, Steve has provided a five step approach that walks you through the process of developing a Retirement Income Plan.
Step One
Estimate life expectancies for you and your spouse. Since the retirement income generator has to produce a reliable income stream that lasts for the rest of your lives, it is important to know how long that may be.
Step Two
Take inventory of all your retirement resources. Retirement resources include everything e.g. registered savings (RRSP's, LIRA's), non-registered savings (TFSA's) and the equity in your home. An important resource is the amount that you can expect to receive from CPP and OAS.
Step Three
Figure out how much money you will need. Based on your vision of your future lifestyle, estimate what your essential expenses (shelter, food) and what your discretionary expenses (vacations, restaurants) will be.
Step Four
Decide which methods you will use to generate your retirement pay cheques. There are insurance solutions such as life annuities. These, with CPP and OAS can be used to cover your essential expenses. There are investment solutions such as systematic withdrawal plans from mutual funds. These can be used to cover discretionary expenses.
Step Five
Estimate your retirement number. Here you compare the amount of money you are going to need with the amount of money that you have saved.
If your savings are less than you need, lifestyle plans have to be adjusted to spend less or to work longer to increase savings.
If your savings are greater than your needs you are in the position of being able to change your lifestyle plans to spend more e.g. on vacations and travel.
Steve gives a strong warning that you need to educate yourself to make informed decisions. He cautions that this will take hours of your time to research the products and services that best meet your unique, specific goals.
It is important to get this right the first time. You may not get a second chance.