Contact
Independent advisors on finance, lifestyle and aging

The Downside of High-Rise Living
June 28th, 2016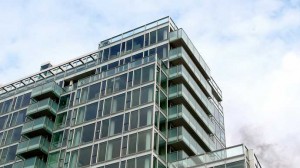 After we sold our home of 32 years, Mary and I decided to rent a condo for 18 months. We couldn't find an apartment or a condo unit that we liked, never mind that we could afford. We also wanted to try high rise living to see what we liked and what didn't. This post contains some of the things we do not like. A separate article will talk about the things that we are enjoying.
Living in a high rise is very much like living in a hotel. You are surrounded by neighbours that are very nearby. People make noise. Noise comes through the door to the hallway. Depending on the age of the building, noise comes through the ceiling. The older the building, the less noise you hear. Unfortunately, we are living in a very new building.
Unlike hotels, most high rise buildings have balconies. A serious problem in our building is caused by smokers on the higher stories of the building, throwing their cigarette butts off their balcony. At best, the butts accumulate as litter on the lower balconies. At worst, they burn holes in the upholstery of the balcony furniture. A friend told me about an incident in his building where a cigarette butt started a fire on his balcony.
Another problem is dogs. I was quite surprised at the number of dogs living in the building. I am even more surprised at the size of the dogs which include a Great Dane. The real problem is that dogs have what are euphemistically called "accidents". These accidents occur in the hallways, in the elevators and in the lobby. Finding a puddle of urine in the elevator is not as uplifting as you might think.
By far the worst problem we have encountered is short term rentals. Our condo has a web site where the occupants post notices and ask questions. One morning, someone posted a note saying that people in our building were advertising their unit on AirBnB. When we looked at the ad, we were horrified to find that the unit being advertised was our neighbour! Since we shared a terrace with that unit, with only a low glass wall between us, we became very concerned.
A friend with a condo in Collingwood told us about a "family" rental in his building that morphed into a weekend long party, 20 people strong. Toronto Life, recently published a story about a couple on vacation that got an email from their neighbours, saying that their AirBNB client had used their house to host a very loud, all night party that did considerable damage to their property. People consoled us by pointing out the recent incident at 300 Front Street West, where gunfire was exchanged, was not an AirBNB situation. We immediately calmed down.
Our decision to treat the 18-month rental as an experiment was confirmed when the following notice appeared on the condo website.
"This notice serves to clarify some misinformation circulating on 'the topic of short term rentals and AirBNB advertisements'. In particular, there are no provisions in our condo declaration specifically addressing this topic. Moreover, changing the condo declaration at this stage would be quite expensive and it would be almost impossible to get the requisite owner support. The board is actively engaged in assessing what else can be done to protect our community while respecting the existing rights of owners."
One more item has been added to our pre-purchase, pre-rental checklist.