Contact
Independent advisors on finance, lifestyle and aging

Automated Vehicles, Police & Farmers
January 18th, 2017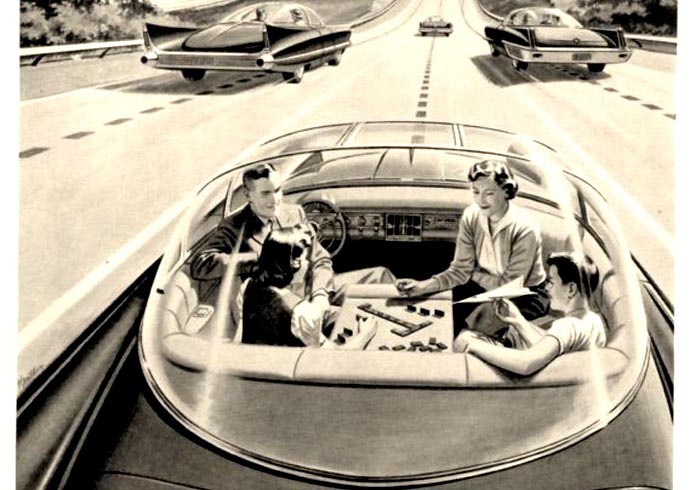 In December, my wife and I traded in our 2011 Malibu for a new one. The differences between the two vehicles were startling.
The most obvious changes were the new features to improve the safety of people in the car and in the vicinity of the car. These include things such as adaptive cruise control (which provides automatic braking when driving in stop-and-go traffic) and lane keeping assistance (which monitors road lines and gently turns the steering wheel if the car starts to change lanes without a turn signal). The list goes on and on: rear vision cameras, semi-automatic parking, side blind zone alerts and more…in a Malibu.
The friend who sold us the car pointed out that of the thirteen such safety features in the 2017 Malibu, only four were available in the market in 2011, but only in high end cars.
As an IT person whose job it was to push change through large organizations, I'm astounded at how much change has occurred in the automobile industry in the last 5 years where the complexities involved in assembling such sophisticated machines are truly mind boggling.
What's more, it's is very likely that the pace of change will accelerate and that self-driving cars will appear much sooner than many people expect. Stratford, Ontario plans to be the first municipality in Canada to have sanctioned the testing of automated vehicles on their roads starting in early 2017.
There are real economic pressures pushing things forward. Google reports that its self-driving cars have driven 2 million kilometers with just 14 collisions and no fatalities. It's true that newspapers took notice when one person was killed in a Tesla Autopilot vehicle, but less well known is the fact that their cars have driven 209 million kilometers with only one other crash. By comparison, auto accidents kill nearly 40,000 Americans a year.
The Traffic Inquiry Research Foundation estimates the economic consequences of these accidents to be more than $25 billion a year which explains why governments everywhere are trying to smooth the way for automated vehicles.
I read an article in the Globe and Mail Report on Business which that stated that in 1900, anyone could ride a horse down the streets of Toronto. Last year, the only people allowed to ride horses in the city were the police. The article went on to predict that sometime in the future, the only people that will be allowed to actually drive vehicles will be emergency services personnel and farmers!
Food for thought.