Contact
Independent advisors on finance, lifestyle and aging

E-book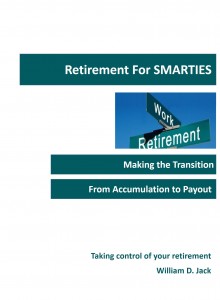 "Retirement for Smarties", my newly-published ebook, is now available on Amazon.ca.
The period in mid-life when the focus is on asset accumulation and investment for growth is widely discussed in newspapers and books. However, this book, which is sub-titled "Managing the Transition from Accumulation to Payout" deals with a different set of issues such as determining future income needs and determining strategies for converting assets into reliable income.
Retirement for Smarties should prove most valuable for anyone planning to retire in the next 5 years, confronting an immediate decision about retirement or in the early years of retirement.
Click here to download the ebook in Kindle format from Amazon.